Art Triangle Roppongi
The National Art Center, Tokyo, The Suntory Museum of Art and the Mori Art Museum have agreed to form "Art Triangle Roppongi (ATRo)" and work together to further promote art appreciation - both inside their galleries and beyond in Roppongi as one of Tokyo's major cultural centers.
"Art Triangle Roppongi" Map
"Art Triangle Roppongi" is publishing a handy map, which not only links the three museums, but highlights some of the other cultural attractions in Roppongi area. Use the map to navigate your way around Tokyo's most exciting art area. The map is also available at the Mori Art Museum and elsewhere.
Download the map (PDF/2.03MB) [2020.4-9 Version]
* The exhibition listing and information along with the details provided here have been modified due to the Museums' temporary closures and related factors. Be sure to check for the latest updates on each of the Museums' websites.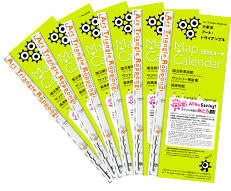 ATRo Saving
"ATRo Saving" is discount ticket system for "Art Triangle Roppongi." Visitors retaining an entrance ticket stub of an on going exhibition at The National Art Center, Tokyo, Suntory Museum of Art or Mori Art Museum are entitled to a reduced entry price at the other two galleries.
Mori Art Museum

Adult 200 yen off
Please note changes as far as the follwing exhibition is concerned:


Exhibition Commemortaing the 50th Anniversary of ASEAN
SUNSHOWER: Contemporary Art from Southeast Asia 1980s to Now
Periond: 2017.7.5 [Wed] - 10.23 [Mon]
Venues: The National Art Center, Tokyo, Special Exhibition Hall 2E; Mori Art Museum
(Joint exhibition held simultaneously at two museums)

200-yen discount off of admission will be applied to those who show ticket stubs of the exhibition held at the Suntory Museum of Art, The National Art Center, Tokyo and Mori Art Museum when entering the above exhibition.
Only "Ticket for Single Venue" stubs of either Mori Art Museum or The National Art Center, Tokyo are valid.
"ATRo Saving" applies to exhibitions listed in the Map Calendar only. At The National Art Center, Tokyo there are some exceptions to this offer. Please inquire at reception.
Discount applies for one person presenting one ticket stub on one occasion at each of the other galleries. Cannot be combined with any other discount.
Exhibition contents and opening hours are subject to change. Please ask each museum for details.