"COUNTDOWN PARTY 2018" @ THE SUN & THE MOON on December 31!
2017.12.12 [Tue]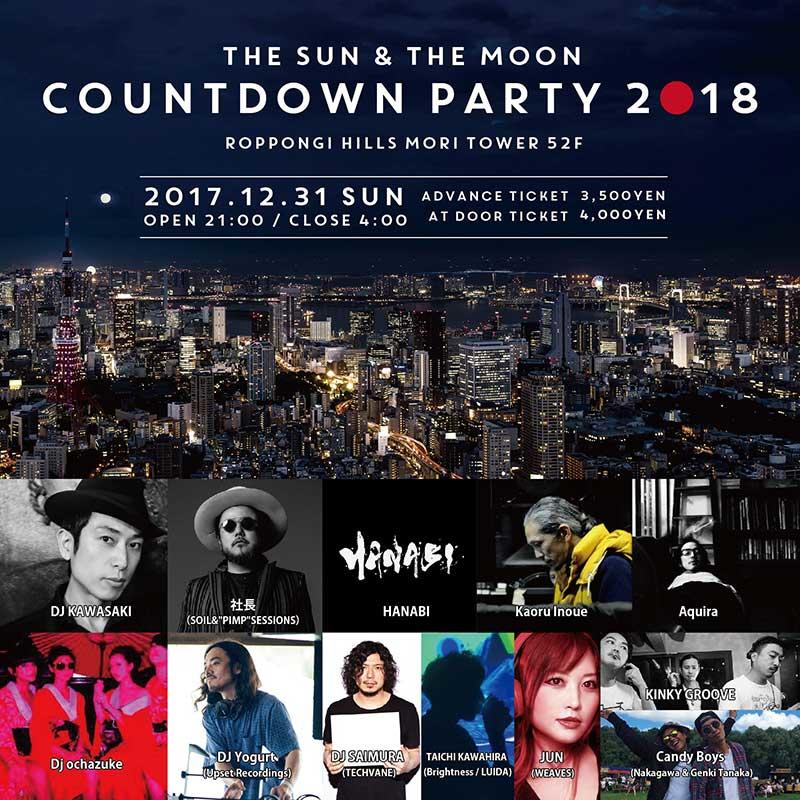 Welcome 2018 in grand style at the COUNTDOWN PARTY at THE SUN & THE MOON!
Enjoy the performance of internationally active artists playing a fusion of traditional Japanese instruments with Japanese themes with the latest music and traditional Japanese culture.
COUNTDOWN PARTY 2018
Date & Time

21:00-28:00, December 31 [Sun], 2017

Fee

Same day: 4,000 yen
Advance Purchase (e+): 3,500 yen
Purchase tickets here
Notes
Those under 20 years old won't be allowed to enter. Photo ID required.
This event is all night event.
Please come to the entrance of the Observatory / Museum (3F, Roppongi Hills Mori Tower).
You will be admitted by the special reception desk set up for this event.
As it is expected to be crowded on that day, there may be periods when we will restrict admission. In such cases, we will prioritize guests with advance tickets. We recommend that you purchase tickets in advance.
Venue

THE SUN & THE MOON (52F, Roppongi Hills Mori Tower)
THE MOON
LIVE: HANABI
DJ: DJ KAWASAKI, Shacho (SOIL&"PIMP"SESSIONS), Dj ochazuke, KINKY GROOVE, JUN (WEAVES), Candy Boys (Nakagawa & Genki Tanaka) and more

THE SUN
DJ: Kaoru Inoue, Aquira, DJ Yogurt (Upset Recordings), DJ SAIMURA (TECHVANE), TAICHI KAWAHIRA (Brightness / LUIDA)
VJ: comboy, scale
Details here * In Japanese-language